Increased reliability, Performance & Long-term
Cost Reduction
Critical Flange Management
PK Technology's Flange Management solution provides clients with a digital solution to track critical flanges. This service provides the client with a real-time tracking system of the progress and chokepoints during a turnaround. Images of each flange face can be reviewed in virtual, real-time, giving the client greater transparency and certainty of flange repair or replacement decisions. To date, all projects utilizing PK's process have been deemed successful by the client, with on-schedule completion and a leak-free start-up. Coupling PK services with out in-house developed technology, intelliSPEC™ provides clients with:
Accuracy of data due to consistent mobile inspection forms
Efficiency of inspection by controlled workflow process within an IDMS
Cost savings due to the identification of anomalies resulting in repairs & maintenance instead of replacement
Notifications of identified safety issues to prevent shut downs, catastrophic events or personal injury
Compliance data collection & control of critical procedural execution in the field
Inspection Planning / Implementation
PK Technology Specialty Services for Flange Management Tracking can assist with all Turn-Around process. Planning is the most critical part of all Turn-Around projects and PK Technology works alongside the client's on-site TAR Planning Group / Engineering Group to increase trackability and efficiency of the project.
The flange management & planning process
Mobile Technology to document conditions
Proper gaskets, bolts and flange components replaced and/ or used per specifications
All components working in alignment without defect, and void of isolation and start-up leaks
Field validation of facility torque procedure specifications and requirements
Report showing current status as soon as it is 100% verified that blind placement and isolation has been achieved
Time Management / Global Accessibility
Reports showing any defects identified as a flange is inspected so parts can be expedited to correct defects
Field accessibility of procedures, drawing and build of materials for reference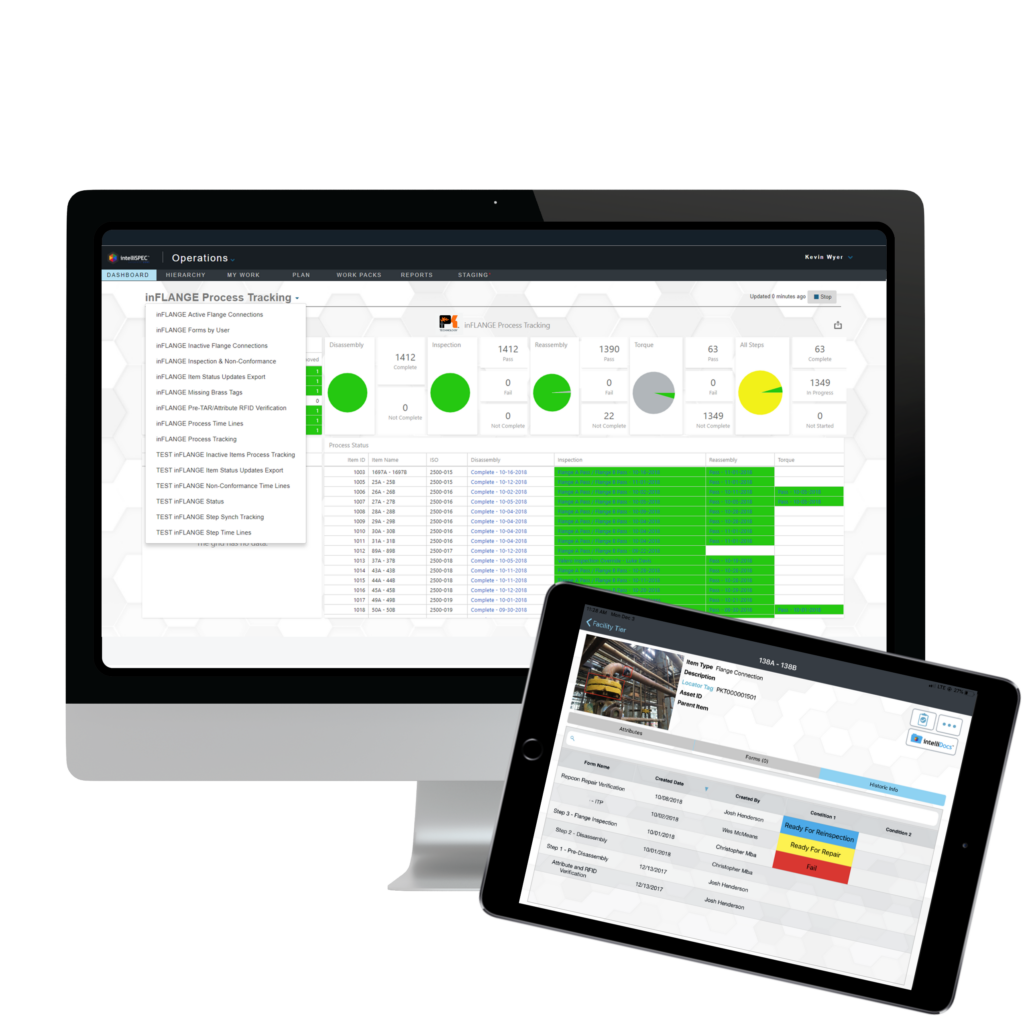 Document the disassembly of bolt flanges & blind installation
field inspection verify & validate
Secure cloud-based interactive web portal with data storage system
Suite of innovative features and integrated tools for efficient review of inspection and prior
Client-based configuration of Work Pack/ repair planning and project tracking
Business Intelligence – customized data analysis, dashboard, and reporting integrated tools